The Commonwealth of Dominica
Where scenic splendour is on the menu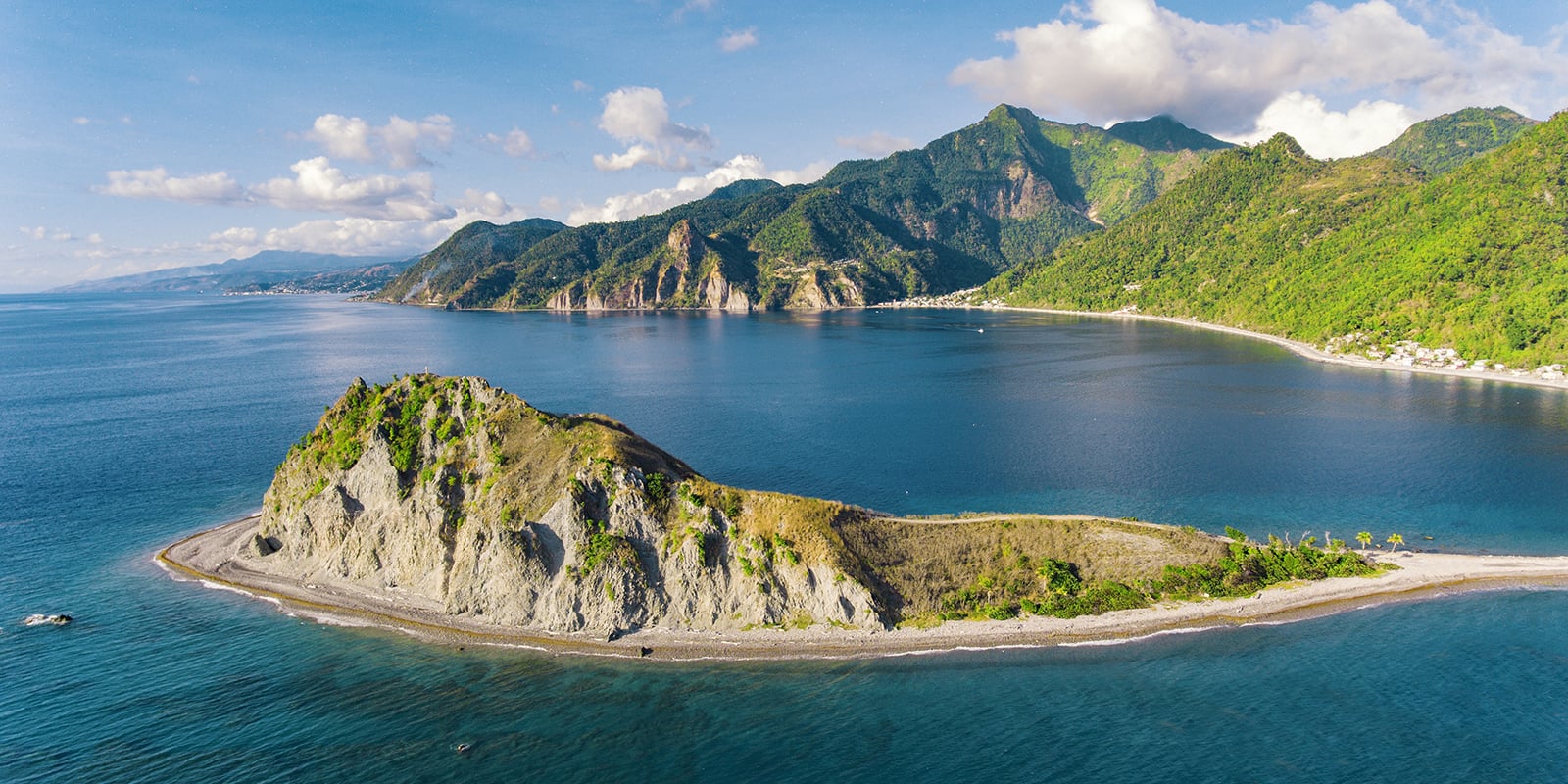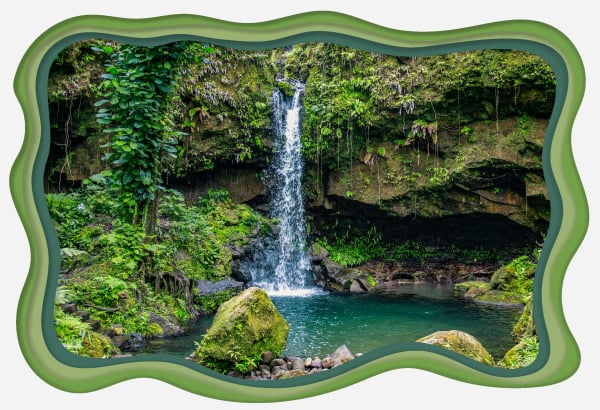 Paradise. Where the hassle stops
Insular in nature, surrounded by the gentle waters of the Caribbean Sea on the silvery eastern coastline and deep Atlantic Ocean on battered western shores.
Dominica is known for nature. Majestic mountains, flourishing landscapes, history, artistic legacy and abundant French-creole culture.
A leading Caribbean eco tourist magnet, Dominica is not far from Eden, showcasing diverse species of tropical flora, unique non-poisonous wildlife, shy possums her wildest beasts; vast, dense rainforests which flourish beneath blue skies, clean air, sweet soil quenching rain drops, and splendid sunshine.
With such pure scenic splendor on the menu, the capital city and historic coastal villages are adorned with rustic structures, vividly displaying the colonial past and history of the island, amidst hills, towering mountain ranges that breathe a stunning tapestry of nature's haven.
Quick Facts
Official Name
Commonwealth of Dominica
Head of State
The head of state is the President.
Head of Government
The head of government is the Prime Minister.
Population
72,293 according to 2011 census
Area
751 km2 (289.5 sq mi)
Location
Latitude 15˚ 20' N, Longitude 61˚ 22' W, between the French Overseas Departments of Guadeloupe and Martinique.
Highest Peak
Morne Diablotin – 1730 m (4,747 ft)
Independence
Dominica became independent on November 3rd, 1978.
Climate
Two main seasons- wet and dry season. Humid tropical marine, minimal seasonal variation between wet and dry season; high precipitation during wet season.
Business Opportunities
Additional fiscal incentives and duty free concessions can be offered to qualified investors upon consideration of the socio-economic benefit, impact on employment and the nature and extent of the proposed business investment.
Regional Membership
Dominica is a member of CARICOM and OECS and as a result grants its citizens benefits of residing or opening a business in any member country without any restrictions.
Currency
Since 1976 Eastern Caribbean dollar (XCD) is pegged at USD 1 = XCD 2.70 – and is the currency of all OECS member states, namely Anguilla, Antigua and Barbuda, Dominica, Grenada, Montserrat, St. Kitts and Nevis, St. Lucia and St. Vincent and the Grenadines.
Investor Benefits
Since 1993 – long standing and stable Citizenship by Investment Program. Very attractive Real Estate Investment option to obtain citizenship was added in 2015.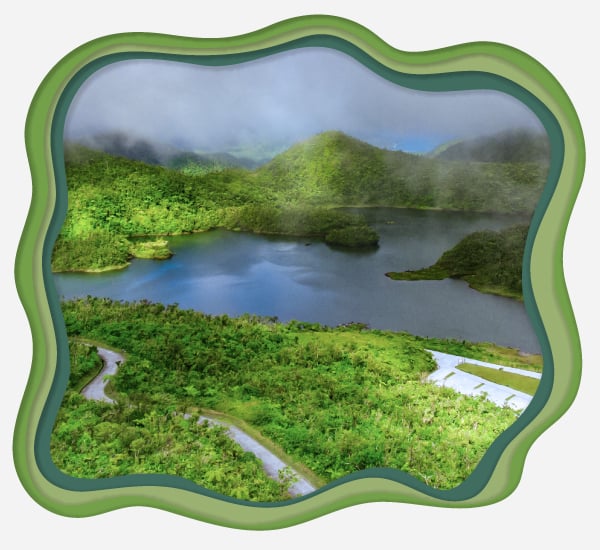 Morne Trois Pitons National Park - UNESCO World Heritage Site
Sanctuary Rainforest Eco Resort and Spa is located in Laudat, near well-known sites like the Middleham Falls, Titou Gorge, the Boeri Lake and the Fresh Water Lake.
The Boeri Lake, located just about 2.5 to 3 miles from the village of Laudat, is a body of fresh water located in the Morne Trois Pitons National Park. Sitting in the crater of an old volcano, at an elevation of 2,800 ft between Morne Micotrin and Morne Trois Pitons, the Boeri Lake is ideal for experiencing Dominica's diverse fauna and flora, montane forests and elfin woodlands.
"Titou Gorge", the French Creole name meaning "Little Throat" is a wonderful tourist attraction in Dominica. It was created by volcanic lava which cooled and split open over time, forming a natural cave into which bathers swim. Located near the village of Laudat, the Titou Gorge offers an ideal experience and possibility for adventure.
The Fresh Water Lake is located at about 2,500 ft above sea level, about 2 miles away from the Laudat village. The Freshwater Lake is the second largest body of fresh water in Dominica, and has been dammed to provide water used to generate electricity for the island.
Getting Here
Dominica is serviced by 2 airports; the Canefield Airport, and the Douglas Charles Melville Hall Airport, which is equipped with night landing and is the larger of the two.
If traveling from Europe or the Middle East, there are currently no direct flights to Dominica. However, you may get to Dominica via France, the UK, the Netherlands or the United States from where you can travel directly to Antigua, Guadeloupe, Martinique, St. Lucia, St. Maarten or Barbados and obtain a connecting flight to Dominica, which is usually available on the same day of arrival on neighboring hub. If coming from the United States, you may travel to Puerto Rico, Barbados, Antigua or St. Maarten and then directly to Dominica.
The l'Express des Iles also operates a reliable inter-island ferry service between Guadeloupe, Dominica, Martinique and St. Lucia. This provides an alternative to air travel.
However we would like to stress again that No Travel to Dominica is required to apply and receive citizenship and passport through Dominica Citizenship by Investment Program.
Dominica Citizenship by Investment Real Estate Option
Visa-Free Travel to 130+ Countries
2–3 Month Citizenship Timeline
No Residency, Interview or Visit Requirements
To calculate and receive your personalized price quote, please use Investment Calculator!